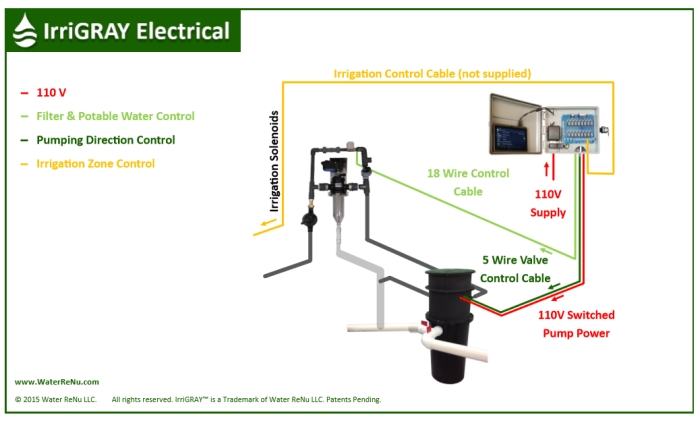 Power Requirement:
110V AC 10 amp supply. IrriGRAY is supplied with a 3' power lead, male 3 wire plug.
Although the IrriGRAY system includes GFCI protection, this system MUST NOT be placed on a supply circuit also used for any refrigeration equipment.
Placement of Controller near Filter Assembly:
The main control cable between the Controller unit and the Filter Assembly is 4' long. Longer lengths are available by custom order. The Controller needs to be placed within 4' cable run of the top right of the Filter Assembly.
Pump Power Lead must NOT be cut:
Cutting the pump power lead will void the pump warranty. If the basin is more than 10' from the controller we recommend installing an outdoor power socket close to the pumping basin, and hardwire into the controller.
The Controller has a 3' tail switched pump power supply plug. This plug can be cut off without affecting warranties.
Pumping Basin Valve Control Cable (extending):
The control cable has 5 wires. Extension cables are available. This cable can be spliced to extend, however, care is required as 24v AC and 5v DC control and sensor signals are carried by this cable.
Conduit:
The installer should check local codes for any conduit requirements. 110V AC is supplied to the pumping basin from the controller. It is the responsibility of the installer to ensure safe installation of power supply cable at or below ground level. Conduit should be of sufficient size to pass the pump power plug.
Controller GFCI:
The Controller includes a GFCI protected power supply. This GFCI may be replaced with a standard power socket if the GFCI conflicts with an upline GFCI.
Irrigation Solenoid Cable:
Standard irrigation control wire should be used for connecting up to 16 irrigation zone solenoids.
More Information?
IrriGRAY University, where you can read detailed information about Graywater Irrigation & IrriGRAY.
IrriGRAY Documents and Downloads.